Rays Food Place
Recipes
https://www.gorays.com/Recipes/Detail/6062/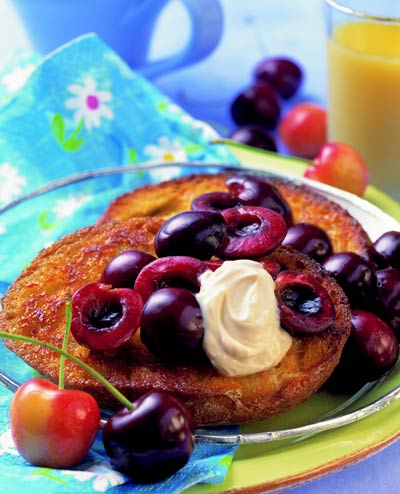 Baked French Toast with Cherry Topping
Yield: 6 to 8 servings
Ingredients
1-1/2
cups
milk

6
eggs

1/3
cup
maple syrup

3
Tablespoons
granulated sugar, divided

1
Tablespoon
grated orange peel

1/8
teaspoon
salt

8
slices
(4-1/2 x 3-1/2 x 1/2-inch) French bread

4
cups
pitted Northwest fresh sweet cherries, halved

1/2
cup
orange juice

Vanilla yogurt
Nutrition Facts
Yield: 6 to 8 servings
Approximate Nutrient Content per serving:
Calories:
297
Calories From Fat:
63
Total Fat:
7.3g
Cholesterol:
168mg
Sodium:
292mg
Total Carbohydrates:
49.3g
Protein:
10.2g
Please Note: Nutritional values listed may vary from final results depending on actual measurements, products and brands used to prepare the recipe.
Directions:
Combine milk, eggs, maple syrup, 2 Tablespoons sugar, orange peel and salt; mix well.

Pour half of mixture into each of two 9-inch square baking dishes. Dip both sides of each slice of bread in milk mixture; arrange in the same baking dish. Cover with plastic wrap and refrigerate overnight.

Marinate cherries in orange juice and remaining 1 Tablespoon sugar overnight.

Carefully transfer bread slices to a nonstick, buttered baking sheet using a large spatula; allow excess liquid to drip into pan used for soaking overnight.

Bake in a preheated 400 degree F. oven 15 to 18 minutes; turn slices over halfway through baking time. Top each slice with 1/2 cup cherries and a dollop of vanilla yogurt. Serve immediately.

Photo and Recipe from Northwest Cherry Growers
Please note that some ingredients and brands may not be available in every store.
Rays Food Place Recipes
https://www.gorays.com/Recipes/Detail/6062/